Art&Fact is commited to pursue the goal of rendering all of it's activities coherent with a durable and eco-coherent future civilization. Below, you will find information regarding the practices we engage with to reach this goal.
The « towards 0 waste » program
Art&Fact and it's printing partner Imprimeur.coop, collaborate to work towards a 0 waste production relationship.
Firstly, all of our printing tests and printing errors are still given to Art&Fact so as to be given to organisations and people who otherwise could not afford to purchase our products. Furthermore, the excess material from the printing process (paper cutaways mostly) are recuperated by Art&Fact to use as facilitation and prototyping material.
This agreement is built according to principles of the circular economic to help both organization reduce their ecological footprint while amplifying the impact potential of Art&Fact's activitées.
If you believe your organization would be one to qualify to receive these free copies of our work, please contact us!
Concerning our packaging
Our environmental commitment starts with our printed products and our packaging. To ensure quality service, we cover our products in plastic wrap. All the products packaged by Art&Fact uses Biolefin biodegradable shrinkwrap made by Bollore and sold by National Shrinkwrap.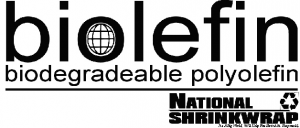 We made this choice to minimize our environmental impact after reading the detailed article about it by Nova Studio. This plastic has been tested by the CNEP ( Centre National d'Evaluation de Photoprotection) that "discovered that 'scattered accidentally in the environment, the film [Biolefin] will photo-fragment under the effects of solar UV, heat and atmospheric oxygen after 6 – 8 months.'Compared to being exposed to the sunlight, 'buried in soil…the film will be oxidized enough to be fragmented after approximately 4 years.' " [https://thenovastudio.com/how-biodegradable-is-biolefin/ ]
According to National Shrinkwrap, the "biodegradation process begins 18 months after application". [https://www.nationalshrinkwrap.com/home.html]
Furthermore, this packaging is USFDA approved for use in food, which makes us more certain of it's safety and quality.
Here are some technical details provided by National Shrinkwrap
Biolefin is an Oxo-biodegradable plastic: a degradable plastic in which the degradation results from the action of naturally occurring microorganisms such as bacteria, fungi, and algae. Oxo-biodegradation is recognized as a two-stage process. Oxo-biodegradable plastics do not simply disintegrate into smaller pieces of plastic that pollute the environment. Oxo-biodegradable plastics use a technology that is based on the well understood but slow reaction of conventional plastics with the oxygen in the air. The incorporation of Totally Degradable Plastic Additives (TDPA) accelerates this reaction in a very controlled way. This causes the products to physically disintegrate in an acceptable time period when they are exposed to air and sunlight or heat. The products of this degradation, which continues after physical changes to the film are seen, are not just small pieces of the original plastic but are chemically completely different. They are significantly oxidized, denser and hydrophilic. These degradation products are highly susceptible to biodegradation by microorganisms that are naturally present in the environment and their biodegradation has been demonstrated in independent peer-reviewed studies. This allows the return of the original plastic to the eco-cycle. Biodegradation occurs over a period of 1-3 years, comparable with most natural materials and completely satisfactory from an environmental viewpoint.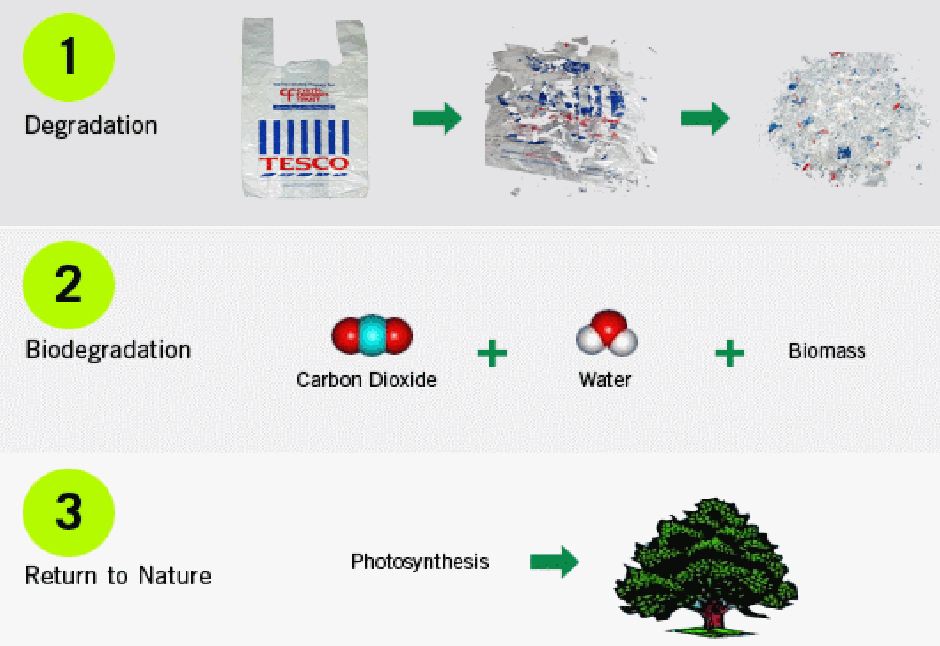 I. COMPOSTION
Components Material CAS% ETHYLENE -POLYPROPYLENE 30 to 45 POLYETHYLENE 9002-88-2 50 to 60 ADDITIVES <5
Improvement opportunities
Beyond the above mentioned efforts, we also identify other terrains in which increased intentionality could improve our eco-transformation. Our hope is that we will be able to continue to pursue the goal of full eco-coherence throughout our evolution.
Here are some of the areas of improvement we've identified so far :
The delivery process related to shipping our products sold on the Art&Fact store.
Our international interventions and the travelling associated with them
Our overall dependency on new technologies for all aspects of our enterprise : computers, smart phones, server spaces, etc.)